"Waxing Philosophical, L.A." is DUM DUM's Tuesday column written by Christina Gubala, co-founder of L.A.'s premier cassette-tape label, Complicated Dance Steps. A die-hard vinyl collector, you can find her spinning records at local bars near you.

Our city has a continuing history thick with vinyl love, now more than ever with record shops opening their doors instead of shuttering. Each week, Gubala breaks down a fresh new wax purchase, and writes about the record store as well, mapping it as part of L.A.'s history in the making.
I'll admit I don't spend much time around Fairfax. Cinefamily's calendar is always inspired, and even though I know there are some good eats and particularly interesting retail around there, I always find parking-related excuses to stay east of La Brea on my free time. But after checking out 100 7-Inches by John Weise at Family last night, I can feel my habit breaking already.
Family is the curiosity shop located near the hollow shell that once was Largo on Fairfax. Instead of a sign, a mythical, feminine, squid-like creature painted over the doorway greets patrons at the entrance. The space itself is modest, but the content within is so well-selected that to engage in it is to be transported through time, space and possibility. And it did so last night by hosting  a retrospective display of every 7" released by John Weise, an installation celebrating the composer's 100th release.
Weise, a prolific artist in the Los Angeles noise scene and founding member of Sissy Spacek (band, not actress), prefaced the installation with his philosophy on the medium, saying, "A 7-inch record is the best format, because practically speaking the only thing you can do while they play is listen to them." On a white wall in the back room each of his releases sat proudly, quite dazzling when viewed as one body. Family had managed to simply yet accurately articulate the genuine and affective artistic effort poured into Weise's projects, and into their own operation.
The store is as meticulously stocked as LACMA itself. Each book on their central table lays prone, inviting passers-by into its singular contents. The magazine wall is thorough and deep: The Believer sits wedged between 'Sup and The Wire, and hand-crafted zines and DIY newspapers adorn the display. The beauty of their stock was magnetic–a physical sensation–radiating from every shelf of the store. I'd been to Family but once before, right when it had first opened as a comic book shop in the early "aughts," but I had not witnessed the cultivated collection of local art that it had become. And I hadn't even reached the record section yet.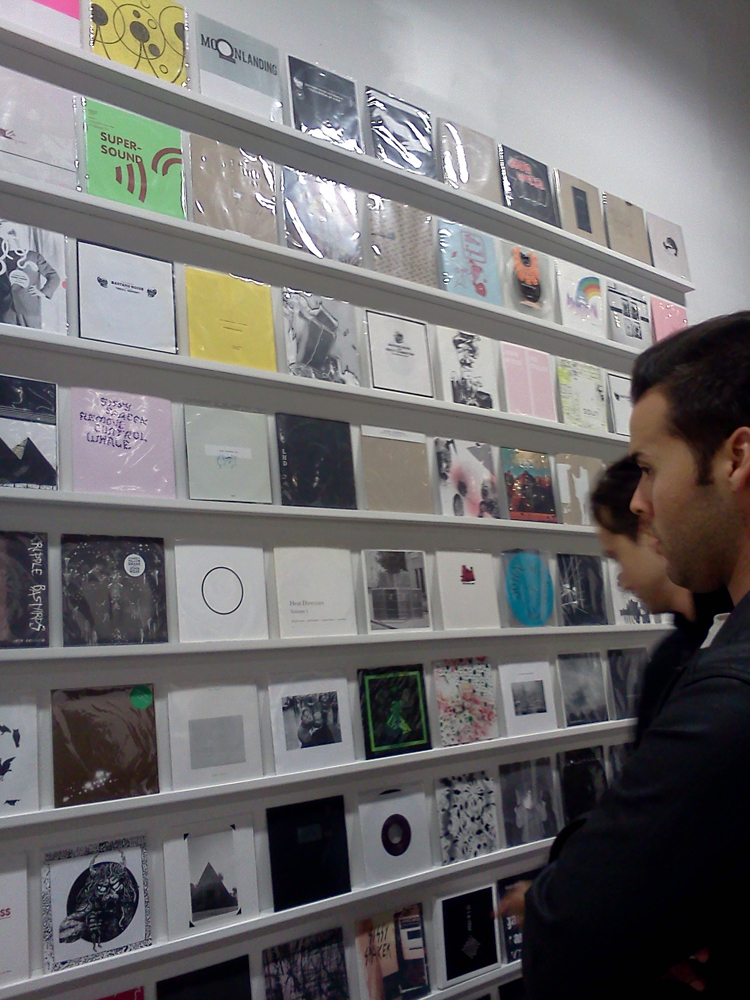 Family's record section may be modest in comparison to their staggering magazine rack and their bonanza of brain-tickling books, but what it lacks in size is completely redeemed by its quality. I flipped through the bin slowly and measurably, soaking in each of the oddly-textured, lovingly culled records, each an ambassador from a different corner of the city. Burlap, silk, some of the finest and most delicate papers I have ever touched, were clothing each record in unique finery. Typefaces of which I had never dreamed informed from the backs and spines of the records, rarely sullying the graceful fronts of the jackets. Wet Hair, No Age, and High Places were among the more accessible releases, but as I perused for my selection that evening, I knew I wanted something more in tune with the noise-centric evening.
About 8 cassettes sat on the shelf near the record bin, and 7 of them looked stark and serious, as though they'd not been informed of their own format, assuming they'd end up on the elegant wall of 7-inches. The 8th, however, was a bright green cassette by Secret Circuit, the cosmic dance project of renaissance man Eddie Ruscha. We snatched the tape up unquestioningly, but I continued to investigate each stimulating slab of wax in the bin until my eyes clapped on the ghostly image of Peter Kolovos. The album cover was simple: his somber visage on a raven background. On the back, his name in elegant script and the title bluntly below: NEW BODIES. I'd had the good fortune of seeing Peter play at Synchronicity Space alongside Bill Orcutt in 2010, and in spite of the abrasiveness of his technique, I had been quite taken by him. I proudly extracted the record for purchase, took one final lap around the premises, and there he was: Peter Kolovos himself stood drinking in the 7-inch wall.
I got home, twitterpated from my run-in with the man himself, and gingerly placed the 3-song album on the turntable. For those unfamiliar with Kolovos, his work consists of anti-melodic guitar transmissions and groans that evoke both terrestrial and celestial emotions. The record is not unlike the live set. Each track begins with a few well-placed crunchy bleeps and barks, followed by broader sound strokes like rumbles from the guitar's intestines. The placement of each noise is purposeful and rhythmic, in a subconscious, narrative manner. In spite of the ingredients to the contrary, it's an awfully enjoyable listen.
The entire record is a 36-minute exercise in editorial brilliance. It lists each tracks' simple names, "Slick Knees," "Dry Lips," and "Early Light" on a single-page insert adorned with the image of a plant undulating before the camera against a black background. It is Westonesque in its allegorical observation: like the image, Kolovos's music seems organic, borne from the earth and sprouting in any direction the light summons it. And like the growth of a plant, the magic behind this music feels both earthen and supernatural at once. I caution the curious reader: don't expect smooth guitar licks for a Sunday drive. However, and especially during October when the lines between life and death get a little blurrier, I highly recommend sitting down and soaking your mind in Kolovos's work, if only to feel different for 36 minutes. New Bodies is certainly the record for it.
Family, I tip my hat to you. You knocked me for a loop, and I'll be patronizing your space much more in the future.