"Waxing Philosophical, L.A." is DUM DUM's Tuesday column written by Christina Gubala, co-founder of L.A.'s premier cassette-tape label, Complicated Dance Steps. A die-hard vinyl collector, you can find her spinning records at local bars near you.

Our city has a continuing history thick with vinyl love, now more than ever with record shops opening their doors instead of shuttering. Each week, Gubala breaks down a fresh new wax purchase, and writes about the record store as well, mapping it as part of L.A.'s history in the making.
I would be remiss were I to begin this week's column with anything other than an admission: my cassette record label could not exist without the love and support of Vacation Vinyl. I say this because not only have Vacation allowed us to stock our entire bizarre cassette catalog on their bountiful cassette table (more on this later), but they've also allowed us to host a label showcase and a cassette release party on the premises. Finally, and perhaps most damningly, my boyfriend works there.
Now, before you cancel interest in everything that is to come (you know, due to its utter lack of legitimate journalistic objectivity), I do wish to say this: I am one of the lucky, ambitious people in this city who has benefitted first-hand from Vacation's presence, and I feel it is for this reason that I should write about them. It's my firm belief that Vacation is an essential resource for DIY culture in LA right now, and its dignified efforts are worth appreciating, regardless of whomever the appreciator may be.
Sunday afternoon at Sunset Junction promises a sun-drenched space vibrated awake by the tense hum of well-dressed patrons. From Intelligentsia to El Conquistador, sun-dressed women and their dapper male counterparts fill the sleepy sidewalks with their curiosity, conversation, and desperate hangover nursing. Vacation Vinyl is the sea-blue record store brought to life by the DIY heroes of Hydrahead Records. It sits nestled here between Dangerbird Records' oddly heat-absorbent "Pablove Foundation" mural and the fascinating comic shop Secret Headquarters. Vacation moved from their original home on Hollywood Blvd. (near Wacko Soap Plant in Los Feliz) to the junction in August of 2010, and it was at that point that the store really started to come into its own.
Its consistently immaculate appearance is a holdover from the original location. From the hand-painted iconic logo on the front window to the super-sized gig photo of a drum kit surrounded by thousands of squashed beer cans in the wake of a Fear show, the store's relatively small crew was able to recreate the charm of their original space while making a few distinct, specifically Silver Lake-inspired tweaks to their operation. One of the more thrilling changes that came about was the creation and nurturing of the aforementioned tape table: in the center of the store, an 8-foot table offers up a treasure trove of cassettes from every thinkable era, genre and culture. Lee "Scratch" Perry cassettes rub elbows with the latest Kill/Hurt releases while Eyehategod and Palo Verde tapes look on. There are multiple cassette copies of old Tangerine Dream albums on this table, right next to a used Big Daddy Kane and a brand new Black Lips tape. To look upon this table is to see the future and the past at once, in colorful 2.5 x 4 manifestations, flaunted before your eyes without shame. Vacation is the only store that I have ever visited to offer such a display, and it's an immediate consequence of the store's laudable open-minded ethos. It's a place that invites in the obscure, abrasive, avant garde and ugly, the 4-tracked, screwed n' chopped, or professionally mixed. Local labels visit the store daily to drop off their labors of love, which are often hand-painted, hand-recorded, hand-silkscreened mini works of art that, in their quirky glory, articulate our city's thriving underground DIY scene. It's truly a sight to behold.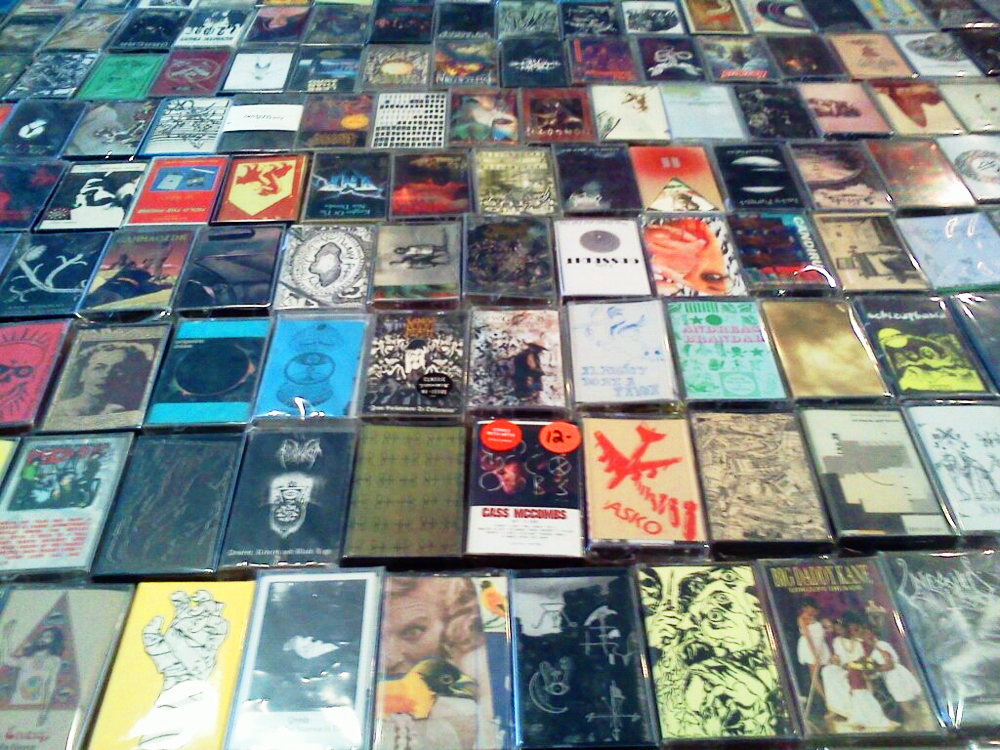 This past sunny Sunday, I made my way to Vacation after a Naturewell shot and an Intelligentsia latte (I'm a sucker for The Junction and I don't give a good goddamn who knows it). I'd had my eye on a Linval Thompson reissue for a while, and after having earned a store credit for selling back a St. Vincent record, I could tell I was in the mood for a little crate-digging. Vacation divides its records into genres like 'Unholy Metal' and '60′s Psychedelia/Garage,' and they have a mouthwatering selection of rare comps and reissues that make retromanicacs like me weak at the knees. Were I ever to win the lottery, I would snatch up every single slab of wax in their World Music section, knowing my DJ sets would be hot for life.
Though their reputation for being run "by metalheads for metalheads" is accurate to a degree (store manager Pete Majors certainly owns the role, as the blood-speckled frontman of the black metal/thrash 3-piece Harassor) the essence of Vacation Vinyl is its flare for the dramatic. They've hosted in-stores for superbands like Off! and legends like Exene Cervenka. Their cliental hail from every walk of life in LA. In each corner of the store, compelling and strange works of musical artwork lurk. In fact, the most dramatic record I have ever purchased –an original issue of Scott Walker's The Drift–came from the top shelf of Vacation about a year ago. Keeping this in mind, I opted to shuffle through the "Experimental" section to see if anything hooked my attention, and pressed on into their "traditional" rock bins.
Somewhere in "D," I unearthed a copy of Daughters of the Sun's Ghost With Chains, a Not Not Fun release from early 2011. I'd been on the hunt for this record since seeing the Minneapolis psych-rockers at the late Show Cave in spring. The live show was a drum-driven extravaganza of wild-horse momentum, so I had high hopes for the record. Like most Not Not Fun releases, I was not disappointed. While the record is more drone-centric and melodic than the unbridled fury of the live set, the cowboy-eyed zen meditations on "Moontan" and subtly Gregorian vocal work on "Endless" shot like arrows directly into the zone of my heart reserved for people like Bonnie "Prince" Billy. The title track, situated at the end of the record, seems almost weightless in spite of its 8-minute run time, an etherial nod to its subject matter, and the listener is left hungry for an epilogue. I'm champing at the bit to see what comes next for Daughters of the Sun, and as I wait, I'll be gazing into the seductively complex collage cover art of Ghost With Chains, still shaking my head in disbelief that I was able to snap it up for just $10.
To those of you who haven't yet checked out the tangible, thriving cultivation of underground L.A. culture pulsing through the veins of Vacation Vinyl, I highly recommend checking out one of their frequent in-stores. Bring earplugs, open your mind, and enjoy yourself. I'll probably see you there.
Tuesday, October 4, 2011